There is speculation that All My Children might be bringing Frankie Hubbard back to the canvas. Frankie is the son of Angie and Jesse Hubbard, one of the show's most popular couples and, perhaps, the most popular African American couple in soap opera history.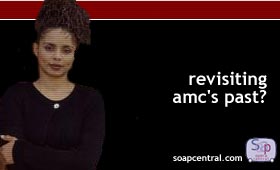 AMC is casting for the role of a 20something African American male named "Frank." The show, however, declined to comment on the reports that it might be Frankie Hubbard.
Alimi Ballard is the most recent performer to have tackled the part of Frankie Hubbard -- but it wasn't on All My Children. The characters of Angie and Frankie Hubbard were shuffled off to the now-canceled ABC soap Loving and then The City. Ballard played the part from 1993 to 1995.
Also on The City, Angie met and fell in love with Jacob Foster -- a look-alike to her late husband, Jesse.
Darnell Williams, who played both Jesse and Jacob, appeared last year on AMC as a ghostly guide for Gillian Andrassy. If indeed Frank turned out to be Frankie Hubbard, it is unclear if the show would again write Williams -- either Frankie's late dad or his look-alike -- back into the show's canvas.