There's a great deal of pressure associated with being the program that snags the most Emmy nominations. The expectation that you'll be the "big winner" on Emmy Night runs quite high. With 21 nominations, the pressure of being the most nominated program fell squarely on All My Children this year.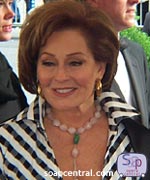 Going into Emmy Night, All My Children had already racked up four Emmy victories. Those four wins, all in the Creative Arts section of the ballot, positioned All My Children halfway towards a milestone: eight Emmy victories in a single year. That record-setting mark was set by General Hospital in 1999 and equaled by As The World Turns last year.
And things seemed to be looking up when the first award of the night went to an All My Children star.
With three of the five nominees in the Supporting Actor category belonging to All My Children stars, it seemed a foregone conclusion that AMC would take home the prize. But which of the show's stars -
Mark Consuelos
(Mateo Santos),
Josh Duhamel
(Leo du Pres) or
Cameron Mathison
(Ryan Lavery) - would hear their name read remained the key question. Only Duhamel had earned a previous Emmy nomination. Last year Duhamel was a nominee in a field that was led by winner Michael E Knight (Tad Martin). This year, however, it was Duhamel's turn to head to the winner's circle.
An emotional Duhamel raced towards the back of the auditorium to embrace his mother.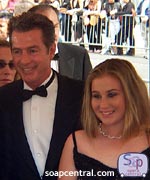 All My Children fans would not hear their favorite show's theme music again until the final moments of the Emmy telecast. Two All My Children stars had earned nominations in the Outstanding Lead Actress field. When the envelope was ripped open and the winner's name was announced, the All My Children theme music played loudly in the background. The only problem was that the winner was The Bold and the Beautiful's
Susan Flannery
(Stephanie Forrester). Backstage, a stunned
Susan Lucci
(Erica Kane) mouthed Flannery's name - until it appeared that someone had told her that
she
had won the award. Lucci's hands trembled as her eyes widened and she made her way onto the stage. Fans immediately flocked to the Soap Opera Central message boards to voice their outrage of the mixup.
Calls to dick clark productions, the producer of this year's telecast, about the debacle were unreturned.
In the end, All My Children tallied five Emmy wins, putting it in a first place tie with As The World Turns, which also won five awards.