All My Children executives have opted to recast the role of Adam "JR" Chandler, Jr. The recasting of the role, which takes place on-screen later this month, will mark the second such change in a year.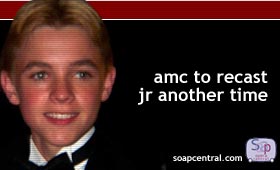 Andrew Ridings will assume the role of the powerful Adam Chandler's son at the end of the month. Ridings assumes the role from Jonathan Bennett, who joined the show in November 2001. Bennett has decided to leave the show with the intention of pursuing roles in Hollywood.
Bennett was a replacement for the popular and Emmy-nominated Jesse McCartney. AMC opted to "age" Adam Jr. for storyline purposes and McCartney no longer fit into the show's vision of the character. Bennett, though only a few years older than his predecessor, was a strikingly different performer; Bennett towered over most of his former cast members and was a brunette.
Riding, a newcomer to the world of soaps, makes his on-screen debut on October 31st.