It's a done deal: Sydney Penny (ex-Julia Santos Keefer) will be returning to All My Children later this year. The length of her stay, however, is still very much up in the air.
While fans had been hoping that Penny would return to the role that she played from 1993 to 1996 on a permanent basis, a show spokesperson tells Soap Opera Central that Penny will be making "recurring appearances" on the show.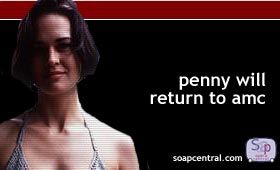 In the days of tightened soap budgets, sometimes a non-contract performer can be seen on-screen more than a contract player. That would not appear to be the case in this situation, however. Penny's rep says that the actress is scheduled only to tape two episodes of All My Children - November 21st and 22nd. There is the possibility, however, that Penny could be asked to return for future episodes.
IT is unclear if the decision by Keith Hamilton Cobb (ex-Noah Keefer) not to return to AMC in anyway affected Penny's airtime. Cobb, who played Penny's on-screen husband, declined offers to return to All My Children due to a conflicting work schedule on his syndicated series "Andromeda."
Penny's first airdate is December 20.