Emmy-winning writer Megan McTavish will return to All My Children as head writer. The announcement comes less than 6 months after the show's current head writing team was put in place.
"I am thrilled to welcome Megan back to ABC Daytime," said ABC Daytime president Brian Frons. "Her extensive history with 'All My Children,' coupled with her exciting ideas for the show, make her the right fit to take over the helm of the writing team at a time when AMC is venturing into new and uncharted territory."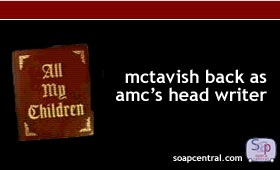 McTavish is not a strange to the fictional town of Pine Valley. McTavish worked on the show previously as an associate head writer from 1987 to 1992 then as head writer from 1992 to 1995. After a two year break, McTavish returned as AMC's top scribe in 1997 before leaving again in 1999. During her reign as head writer, All My Children earned two Daytime Emmy Awards for Outstanding Writing in a Drama Series and an additional two trophies for Outstanding Daytime Drama.
McTavish is responsible for creating some of the most-loved characters in AMC's recent history. During her time with the show, she helped create the roles of Hayley Vaughan, Kendall Hart, the Santos family and Noah Keefer. Some of her better-known plots included Janet tossing her sister, Natalie, down a well and the tornado that rocked Pine Valley in 1994.
"All My Children is my first and long-lasting love," Megan explains. "It is wonderful to be back with this wonder team of actors. I look forward to writing for all the characters I created and the new characters created in my absence."
McTavish most recently served as head writer for General Hospital, joining the show in 2001 before leaving the following year. Prior to that, McTavish worked on One Life to Live. In the two-year period between her stints as AMC's head writer, McTavish penned stories for the long-running CBS soap opera, Guiding Light. McTavish made her entrance into daytime television through Guiding Light – but not as a writer. McTavish played the role of Lola Fontaine from 1983 to 1984.
McTavish assumes the helm on May 5th with her work first airing on July 1st. According to an ABC spokesperson, current head writer Gordon Rayfield and Anna Cascio will remain with the show for a "brief transition period." Rayfield and Cascio were named as co-head writers in late 2002.