What is your reaction to the news that Amelia Heinle may exit AMC this summer?


I'm disappointed. I enjoyed Heinle and her work as Mia.
33%
Mia is so seldom seen, I don't think I'll notice she's gone.
31%
I've never taken to Mia, so her exit would be a good thing.
20%
It doesn't matter to me what happens to Mia.
11%
AMC should recast Mia There's still a lot of story for her.
5%
Other
1%
Poll Posted: May 10, 2004
An All My Children spokesperson has now confirmed a report made by Soap Central earlier this month:
Amelie Heinle
(
Mia Saunders
) will exit All My Children this summer.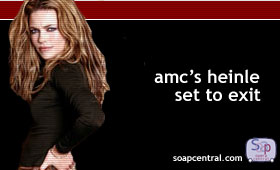 According to a show insider, Heinle has revealed that she will not renew her contract when it expires later this year. Heinle joined All My Children in July 2001 as Liza's half-sister. After the initial reveal that Mia and Liza shared the same father, Mia was relegated to the back burner. For much of her tenure, Mia didn't even have a last name. A budding romance with Jake was scratched by actor J. Eddie Peck's decision to leave the show. The writers then incorporated Mia into the show's front burner Fusion storyline, however, Mia has not had a meaningful, major storyline in quite some time.
Prior to joining All My Children, Heinle appeared on the now-cancelled ABC soaps Loving and
The City
.
A spokesperson for All My Children reveals that Heinle's exit is "storyline dictated." The role will not be recast. Heinle will last air on June 15th.