He wanted to be a soap star -- and now Alec Musser (Del Henry) has had his stay in Pine Valley extended. The newcomer and reality contest winner has earned an extension to his contract.
Musser beat out eleven other contestants in the second installment of SOAPnet's "I Wanna Be a Soap Star" reality series. On the show, wannabe actors are put through the rigors of daytime television and voted off one-by-one by a panel of experts. In winning the contest, Musser was given a 13-week contract with All My Children. That contract expired in October, but the show was said to be so pleased with his work that Musser was given an extension.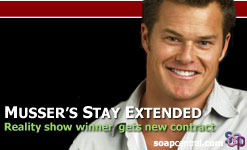 "I think he's doing a great job," praised AMC head writer Megan McTavish.
McTavish hinted that the show is now doing screen tests to see with which leading lady Musser shares the most on-screen chemistry. There's no word on who the front runners might be.
Prior to joining the All My Children cast, Musser worked as a model. Stating that it is "not network policy to discuss contracts," ABC declined to state how much longer Musser might be in Pine Valley.