Eden Riegel (Bianca Montgomery) will reprise her Emmy-winning role on All My Children this May. The return will mark the third time that Riegel has made a limited-run engagement on the ABC soap since leaving the show in February 2005.
This time around, Bianca will return to Pine Valley to help her big sister, Kendall, during a crisis involving her child. Initial speculation involves Kendall going into an early or a difficult delivery.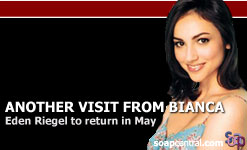 Riegel hasn't been absent from the small screen for that long. As previously mentioned, the actress has return to Pine Valley two previous times - once last summer for her mother's wedding and her most recent stint came over the extended Christmas holiday. This latest return will last several weeks beginning at the end of May.
Riegel joined the cast of All My Children in July 2000 and earned critical praise for her portrayal of one of daytime's first openly lesbian characters. In addition to numerous soapcentral.com "Dankies" awards, Riegel earned Daytime Emmy nominations for Outstanding Younger Lead Actress in 2001, 2002 and 2004. In 2005, Riegel earned the Outstanding Younger Actress trophy.
Riegel first appears on May 24th and will remain on-screen through June 14th.