In a move that will surely shake up the Pine Valley landscape, two of the show's most popular performers will be exiting the show later this month. Emmy winner Eden Riegel (Bianca Montgomery) and Jeffrey Carlson (Zarf/Zoe) have opted not to renew their short-term contracts with All My Children.
How do you feel about the exits of AMC's Jeffrey Carlson and Eden Riegel?

I will miss seeing Bianca, but Zarf/Zoe never caught on with me.
39%
The Bianca/Zoe storyline didn't interest me at all, so this is a good thing
24%
I'm crushed. These two are my favorites and the reasons I watch AMC.
21%
Riegel has popped in and out before, but I will definitely miss Carlson.
15%
I have no opinion about the exits of Eden and Jeffrey from AMC.
0%
Other
0%
I'm not opposed to the show recasting one or both of these roles.
0%
Poll Posted: March 31st, 2007
In a statement to fans, Riegel revealed that she will return to Los Angeles, where the actress now makes her home. Riegel reveals that her return to All My Children last year was always intended to be short-term and, in fact, the actress stayed longer than was originally anticipated.
"When I came home last fall to my All My Children family, it was only ever for a short-term contract," Riegel said in a statement. "In fact, I stayed longer than I originally expected because I couldn't let go of the story so soon! You see, L.A. has been very good to me since I moved there two years ago. I am happy, and in love with my life there. That said, given the opportunity to come back and play sweet Binx, in another groundbreaking story, in the show I love, with the people I practically grew up with? That was too good to resist. Thank goodness I did."
"I got to follow Bianca through yet another chapter, see her change and evolve, and tell a story that is very important to me," Riegel continued. "This year, with constant support and involvement by GLAAD, AMC took on the story of a transgender woman, Zoe, coming out of the closet and beginning her transition process. And they told it right. My hat is off to AMC and ABC for taking this bold step. I heard all the skepticism early on, and I was concerned that we would not find an audience for Zoe's story. But All My Children fans are consistently open to good story; they embraced Zoe like they had Bianca. I am really proud to have been a part of this story, proud of Jeffrey's performance, proud to call him my pal. He says he's keeping me, so I got a new friend out of the deal. I am a very, very lucky girl, for so many reasons. I am ever fortunate that ABC and all the people who make the show tick have allowed me to come back to visit from time to time. I hope I am not saying goodbye for good. In my heart I never will."
Carlson, meanwhile, is headed to Washington, D.C. where he will appear in a Shakespeare Theatre Company production of Hamlet.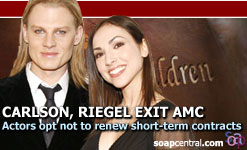 Riegel took over the role of Erica Kane's youngest daughter in July 2000. She remained with the show through February 2005, amassing three Daytime Emmy nominations and an Emmy win in the Outstanding Younger Actress category. The actress made several brief returns to All My Children in 2005 before returning full-time in October 2006.
Carlson, meanwhile, first appeared as Zarf during a one-day stint in August 2006. The actor was brought back when the show decided to tell daytime's first storyline about a transgender person. He was signed to a short-term contract and first appeared on November 29, 2006.
Carlson has not issued a statement regarding his exit from All My Children and a rep for the actor did not return requests for a statement by post time.
Both Riegel and Carlson will make their final All My Children appearances on April 26th.
Photo Credit: Mark Von Holden