Though there is no official announcement from either the actress or the show, it is widely expected that Chrishell Stause (Amanda Dillon) will exit All My Children this summer. It appears that the decision to walk is solely that of Stause. In fact, a setside source tells Soap Central that the network offered Stause a four-year contract.
Stause's contract was set to expire last month. However, the actress reportedly inked an extension to allow the writers the opportunity to pen her character a proper exit. Sources also hint that show execs are hoping that they can persuade Stause to reconsider their offer.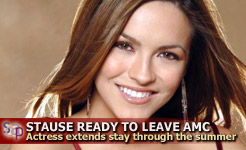 Viewers know that Amanda is currently torn between giving her child up for a secret adoption or keeping the baby and fleeing Pine Valley. Extending Stause's stay allows the show to edge ever closer to Amanda's due date and have her decision play out on screen.
Stause made her All My Children debut four years ago this week. Her appearance marked the "aging" of Amanda from a teen to a young adult.
An ABC spokesperson had no comment on Stause's status with the show.