Aiden Turner (Aidan Devane) will not be joining All My Children when the show relocates to Los Angeles early next year. It isn't because the actor doesn't want to uproot his life. In fact, the Emmy-nominated actor has expressed his desire to make the westward move. In a somewhat surprising casting decision, All My Children has informed Turner that his character will be written out of the show.
"I had a meeting with Julie [Hanan Carruthers, AMC's executive producer], and she said, 'I hate to tell you this, but I have to give you your notice,'" Turner tells Soap Opera Digest. "I was shocked."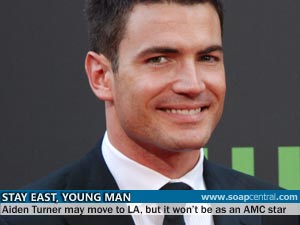 "Mr. Turnerís departure is storyline dictated," a show spokesperson said in a statement. "Given AMC's upcoming move to Los Angeles, we wanted to give Mr. Turner advance notice so he could plan accordingly. Mr. Turner is a talented actor and we wish him well."
Aidan has no family in Pine Valley and he's been without a love interest for some time. In fact, since Turner joined the show in June 2002, the actor has rarely been featured in major, frontburner story. In 2003, Turner's character became involved in a romance with an anmesiac Maria Santos, who then referred to herself as Maureen Gorman. Earlier this year, Aidan was featured in an is-it-or-isn't-it romantic storyline with Annie Lavery.
Turner was nominated for a Daytime Emmy in 2003 in the Outstanding Younger Actor category. In addition, Turner has been nominated as one of AMC's Most Attractive Male Stars in Soap Central's Dankies every year since 2002, taking home the title in 2006.
Turner is expected to last air on December 21.
Photo Credit: Brandon Gonzales/Soap Central