If everything goes according to plans, actress Colleen Zenk Pinter (Barbara Ryan) will soon be celebrating a milestone on As The World Turns.
Pinter, who portrays Barbara Ryan, recently reupped her contract with the CBS soap for another three years. Pinter first signed on with As The World Turns back in 1978. By doing a bit of quick math, you'll see that when the actress' new three-year deal expires in 2003, she'll be celebrating her 25th anniversary with the show.
In an interview, Pinter expressed surprise that her contract had been renewed. The actress expressed concern, or perhaps observed, that the trend in daytime television is to sign young stars over established veterans.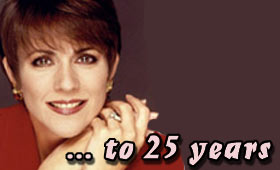 "It's been a long stretch since I really had anything to do but be a demanding mother," Pinter told Soap Opera Digest.
It should be noted that most contracts do have out clauses for both the performer and the network. A performer who signs a three-year deal, as in Pinter's case, is not guaranteed to still be around at the end of that term.