This week marks the end of Tom Eplin's run as Jake McKinnon, a role he created on Another World in 1985. After the cancellation of Another World by NBC in 1999, Eplin was brought aboard CBS's As The World Turns. The decision to cut Eplin also effectively ends Another World's presence on daytime television.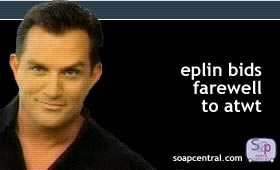 Soap Opera Central first reported on Eplin's "storyline dictated" departure in March. Since that time, fans have rallied to express their displeasure over the decision to write out Jake.
"This is a huge mistake," writes one Soap Central visitor. "One that they will not realize until it's too late."
Other fans, who started watching ATWT as a way to keep up with the characters they'd grown to love on Another World, have expressed disappointment that the final vestige of the long-running soap is fading away. Some insiders have said that the show's executives felt that any former Another World fans who were thinking about tuning in to As the World Turns have since done so -- and that those who will continue to watch ATWT have already been hooked.
According to reports, Eplin has already been offered jobs by other soaps, but the actor is said to have declined them all.