Time is winding down on Paul Taylor's (Isaac Jenkins) contract with As The World Turns.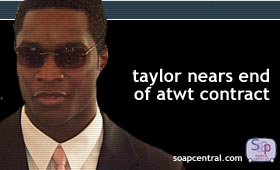 Taylor, who joined the cast of As The World Turns in November 1999, will see his contract expire in October. But that doesn't necessarily mean that the actor will be leaving Oakdale.
In a published interview, Taylor went on record stating that he wants to stick around and would love to be signed to a new contract. As with any contract situation, show executives would need to decide whether or not Taylor's Isaac fits into the show's future.
An As The World Turns spokesperson declined to comment on Taylor's situation, stating that it is not policy to discuss contracts.