According to Internet rumors, two-time Daytime Emmy nominee Jon Hensley (Holden Snyder) is reportedly on his way out of Oakdale.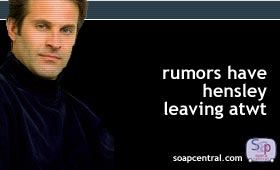 A native of Doylestown, Pennsylvania, Hensley got his start in daytime by playing Brody Price on ABC's One Life to Live. That same year, Hensley landed the contract part of Holden on CBS's As The World Turns.
In 1986, Hensley earned his first Daytime Emmy nomination in the Outstanding Young Man in a Daytime Drama Series category. Hensley exited the show in 1988, but returned for another run from 1990 through 1995. This time around, Hensley had been a part of the show since 1997. In 2001, Hensley earned another Emmy nomination, this time for Outstanding Lead Actor.
Word from insiders, however, is that Hensley, who first joined the cast of As The World Turns in 1985, isn't going anywhere. A spokesperson for the show explains that it is not network policy to comment on Internet rumors.