Three-time Daytime Emmy nominee Benjamin Hendrickson (Hal Munson) is back at work on As the World Turns.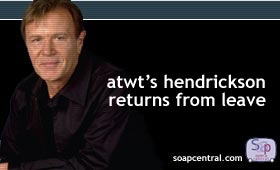 Hendrickson took a leave of absence in March and was replaced by soap veteran Randolph Mantooth. According to a show spokesperson, Hendrickson was due back at work during the first week of May and should make his on-air return in early June.
The reason for Hendrickson's temporary exit were not revealed, however, this was not the first time that the actor took such a leave. In July 2001, James Kiberd (ex-Trevor Dillon, All My Children) subbed for Hendrickson. It was stated then that Hendrickson was sidelined by a "medical emergency." This time around, however, Kiberd was not approached by the show to sub for Hendrickson.
Hendrickson is expected back on-screen on June 6th.