Emmy nominated actor Paul Taylor (Isaac Jenkins) has been released from As The World Turns.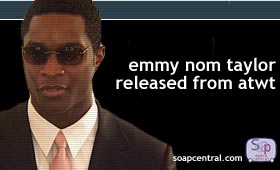 Taylor, who originated the role of Isaac in December 1999, has seen his on-air screen time diminish in recent months. His work on As The World Turns earned him a Daytime Emmy nomination in 2001 for Outstanding Younger Actor.
In addition to his work on the CBS's soap, Taylor has found work in film. Taylor played Cracker Jack in the 2002 film Tinseltown, for which he also served as producer and music supervisor. Taylor partnered with attorney Kevin Del Vecchio for the film. He also appeared as Leon in The Painting that same year.
Taylor continues writing and creative music for several other projects.
Taylor is scheduled to tape his final As The World Turns scenes on August 6th, with a final airdate coming in early September. The role of Isaac will not be recast.