According to show insiders, Cady McClain (Rosanna Cabot) will leave As The World Turns in early 2004.
It may surprise many viewers to know that the highly-profiled McClain has never been on contract with the CBS soap. Since McClain's addition to the As The World Turns cast in April 2002, the actress has always been on recurring status - even though she's been seen on-air more often than some contract players.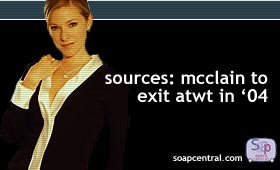 The reason for McClain's exit, say show sources, is the show's current budget crunch.
However, ATWT executive producer Christopher Goutman insists that McClain sin't going anywhere. Goutman says that McClain will take a short break from the show and return at a later and still undetermined time.
Prior to joining As The World Turns, McClain spent 13 years portraying Dixie Cooney Martin on ABC's All My Children. ABC Daytime president Brian Frons is reportedly interested in having McClain return to the network. How to craft a return - should the need arise -- is a tricky situation. McClain's AMC character was killed off-screen in a car crash along with an unborn child in May 2002. While soap opera characters frequently rise from the dead, another popular AMC character was recently resurrected and some fear too many "back from the dead" storylines might be - pardon the expression - overkill.
In a statement, McClain states that she "can't comment" on the reports of her exit at this time. Likewise, spokespeople for CBS and ABC have been tightlipped about the actress' future with their respective networks.