A spokesperson for As the World Turns has confirmed that Emmy-winning actress Cady McClain (Rosanna Cabot) will be exiting the show. However, the show insists that "she'll be back."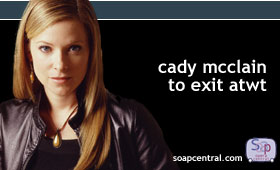 This will not be the first time that McClain, who, despite her front burner storylines, remains on recurring status with the show, has taken a few weeks off. Last year, McClain was facilitated a springtime exit after her character lost custody of her son, Cabot. McClain's upcoming exit is also labeled "storyline-dictated."

McClain's exit had many buzzing that she might be wooed into returning to her former role as Dixie Martin on ABC's All My Children. In a recent on-line chat, ABC Daytime president Brian Frons mentioned that "the door is always open" for McClain to return to network. Frons admitted to having made overtures to McClain in the past, but stated that the actress "seems quote committed" to her role on As the World Turns.

McClain made her "last" appearance in February 25th. The length of McClain's exit was not made available. Due to sometimes frantic speed at which As the World Turns' tapes its scenes, McClain may not be back on-screen until May.