In a stunning turn of events, Soap Central has learned that three-time Emmy winning head writer Hogan Sheffer will not be returning to his position at As the World Turns. Earlier this year, Sheffer took time off from the show for what called a "17-week sabbatical." Jean Passanante, who served as co-head writer under Sheffer and then as head writer during Sheffer's absence, has been named the show's new head writer. [For more information on Passanante's promotion, click here.]
Hogan Sheffer joined the As the World Turns writing team as head writer in June 2000. Though success would eventually follow him to his new position, the announcement by Procter & Gamble Productions that Sheffer was taking over the helm as head writer was originally met with some skepticism by soap industry experts. After all, before even penning a single line in the show's script, Sheffer openly admitted that he did not watch soap operas.
Perhaps it was that fresh approach to the daytime genre that helped As the World Turns have a modern day renaissance. In three of the past four years, As the World Turns has earned the Outstanding Writing Team trophy at the Daytime Emmys. In 2003, the only year during that period that the show didn't win top writing honors, a grainy submission reel was blamed as the reason the show was prevented from claiming the top prize. Sheffer and his fellow writers are again nominated at this year's Daytime Emmys, which will be handed out next month.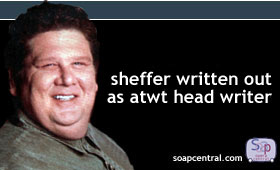 The wise-cracking plus-size Sheffer was a favorite among the soap press. He routinely kept the press howling with one-liners. Sheffer, however, is also said to be a favorite among executives at other networks. In November 2002, Sheffer's name was bandied about as a candidate for the head writing position at ABC's All My Children. Though never fully disclosed, Sheffer appeared to be a closet AMC fan as he frequently praised the show's acting and storytelling. The rumors turned out to be untrue and Sheffer remained on board with As the World Turns.
With such high credentials and acclaim, some fans are wondering why As the World Turns execs would release Sheffer from his duties. According to insider chatter, Sheffer and ATWT executive producer Christopher Goutman recently had a "falling out." A spokesperson for the show declined to comment on the rumors.
Sources say that Sheffer was informed by P&G execs that he would not be returning from his "hiatus" on March 30th.
"I am pleased to announce Jean's new role at As The World Turns," said Mary Alice Dwyer-Dobbin, Executive-in-Charge of Production for Procter & Gamble Productions, Inc. "She is a wonderful, creative storyteller who has a clear creative vision for the show. I am confident her stories will be full of romance and intrigue that will keep the audience on the edge of their seats."

"Jean has a deep respect for the show's rich history," added Goutman. "Her awareness of character and her strong sense of plot development will serve As The World Turns well as we move into our 50th year on television."