When Marie Wilson joins the cast of As the World Turns later this spring, it will be another chance for fans of the now-cancelled Port Charles to catch up with one of the show's former stars. And it won't just be a reunion for fans of the former ABC soap.
Wilson, who appeared as Karen Wexler-Cates on the Emmy-nominated soap from 1999 to 2003, will appear alongside another former PC star, Kin Shriner (Keith Morrissey). Shriner played Wilson's father, Scott Baldwin, on Port Charles.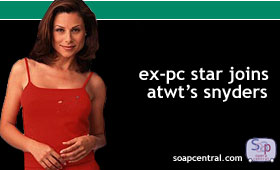 For some time the role that Wilson has now filled was being referred to as "Shannon." It has now been revealed that Wilson's role will actually be Meg Snyder, Holden's youngest sister. It is unclear if the casting department intentionally altered the character's name to prevent leaks or if the idea to "convert" the character into Meg came along after the original casting call.
Meg was last seen in Oakdale in the late 1980s. From January 1986 to November 1989 (and a few random visits in the 1990s), Meg was played by actress Jennifer Ashe. After marrying Josh Stricklyn, Meg and her new husband moved to Waco, Texas. Shortly thereafter, Meg learned that she was unable to bear children and unsuccessfully tried to lobby her older sister, Iva, to let her adopt one of her children.
Wilson first airs on June 16th.