There are some changes coming to the As the World Turns. After nearly five years with the Procter & Gamble-produced soap, soap opera veteran Mary Beth Evans (Sierra Esteban) will find herself in a familiar position: she will be placed on recurring status with the soap.
Being on recurring status with As the World Turns is nothing new for Evans. In fact, she spent the majority of her time with the show on a recurring basis.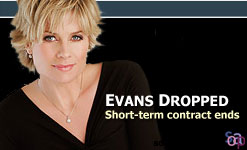 Evans joined As the World Turns in December 2000 for several weeks. Execs were so pleased with her word that they brought her back to the show in April 2001. She later returned in July 2001 and was seen quite prominently on-screen even though Evans was still not signed to a contract. It took another three years before the actress was offered a contract.
Evans was signed to a short-term contract with As the World Turns in November 2004 after the actress agreed to join the cast of ABC's One Life to Live. In an attempt to keep from losing the star to a rival soap, As the World Turns upped the ante and offered Evans a contract.
Fans of daytime television know Evans from roles on other soaps. She may be best known to fans as Kayla Brady on NBC's Days of our Lives. Other fans may remember her for her six-year run on ABC's General Hospital, where she portrayed Katherine Bell
A show spokesperson states that Evans will continue to air in a supporting capacity through Lucinda's storyline. Her future after that storyline wraps is unknown.