There are some changes coming to the As the World Turns. After nearly ten years with the CBS soap, Peter Parros (Ben Harris) has been let go. Officially the actor has been downgraded to recurring status, but an insider tells Soap Central that it doesn't look like the actor will see much airtime in the future.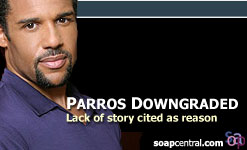 A lack of airtime and, ultimately, story is the reason cited for the actor's change of status with the show. Parros' most recent "front burner" story came last year during a drug dependency plot. That storyline, however, was abruptly cut short and the actor has had little to do ever since.
Parros joined the cast of As the World Turns in July 1996. His addition to the As the World Turns cast, however, was not the actor's first daytime role. From 1994 to 1995, Parros appeared as Ben Price on ABC's One Life to Live. Ironically, both of Parros' daytime roles have gone by the name of Ben - and both have been doctors.
A spokesperson for As the World Turns states that Parros will remain a part of the canvas and make "occasional appearances" as required by story.