To help celebrate its 50th anniversary, As the World Turns is breaking the fourth wall and allowing its viewers a chance to go inside the show like never before. Starting this month, a scandalous new novel, Oakdale Confidential will threaten to expose the secret lives of some of Oakdale's most prominent residents. And while the characters on As the World Turns learn more about these secrets, soap fans at home will be able to pick up their very own copy of the book and read along.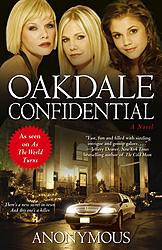 While this is not the first time that a daytime drama series has incorporated a real-life novel into its storyline, Oakdale Confidential does allow its fan something that has never been done before: a chance to get up close and personal with the stars of As the World Turns. The book's publisher, Pocket Books, is offering an all-expense-paid trip to New York City and an exclusive tour of the As The World Turns set to one lucky ATWT fan. In addition, stars from As the World Turns will be making several special in-store appearances to sign copies of Oakdale Confidential.
But if you can't make the in-store signings, Soap Central will randomly be selecting ten entrants from our current Face This contest to receive one of ten signed copies of Oakdale Confidential. The books are signed by Maura West (Carly Tenney), Terri Colombino (Katie Peretti) and Alexandra Chando (Maddie Coleman). Simply log in to the contest and correctly identify this month's mystery photo -- and you're automatically entered the win. If you have not yet signed up for a free Soap Central username and password, you can do so today and then have access to our contests and message boards!
So what are these secrets that Carly, Katie and Maddie fear will be exposed?
Oakdale Confidential's suspenseful storyline begins when chauffeur Henry Coleman opens his limo's door and Oakdale Memorial Hospital's gala event's guest of honor, Gregory Marron, falls out unconscious. People fear the philanthropist has suffered a massive heart attack. But when a doctor pronounces the man dead, three women in the crowd, each for her own reasons, suspect murder.
Katie Peretti knows her boyfriend Mike hates Gregory because, fifteen years ago, Mike was convicted on slim, circumstantial evidence of stealing one of Gregory's cars, and Gregory insisted Mike receive the stiffest sentence possible. Katie fears that her involvement with Gregory while she helped prominent Oakdale citizen Nancy Hughes plan the gala celebration set off Mike's jealousy and re-ignited his long-simmering hostility toward Gregory.
Sixteen-year-old Maddie Coleman fears that her older brother, Henry, who was driving Gregory Marron's limo, might be responsible for the man's death. She knows that Henry is having money problems and that he's $30,000 in debt to his employer. Why did Henry tell her that all their troubles would be taken care of tonight?
Carly, wife of police detective Jack Snyder, fears her husband committed the crime because two days before the gala Gregory Marron told Jack the ugly truth -- years ago Carly had been Gregory's mistress.
When the police officially declare Gregory Marron's death a homicide, Katie, Maddie, and Carly launch their own investigations in order to protect the men they love. But their search for answers raises even more questions and places them in jeopardy.
Does the town of Oakdale harbor a murderer who is willing to kill again in order to protect his "perfect crime"?
Oakdale Confidential is available in bookstores now. You can also purchase the novel online by clicking here.