After weeks of speculation and whispers on message boards, a spokesperson for As the World Turns has finally confirmed that Paul Leyden (Simon Frasier) will be returning to the show next month.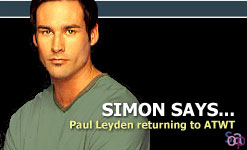 Since leaving the New York-based As the World Turns, Leyden has set up residence in Los Angeles. While the move has been great for him professionally, Leyden recently told Soap Opera Digest that there are certain intangibles offered by New York that LA just can't touch.
"It's going to be a great escape for me to go back and enjoy the culture of a real city," Leyden told the magazine.
Leyden joined the cast of As the World Turns in February 2000. He remained with the show through 2003, earning a Daytime Emmy nomination in 2002 for Outstanding Supporting Actor. He has returned twice to the show since leaving for short-term engagements.
Since leaving As the World Turns, Leyden has made numerous guest appearances on primetime shows, including Ghost Whisperer and Law & Order: Special Victims Unit.
While Leyden's first appearance since June 2004 will miss the May Sweeps period; the actor is set to return on June 16. The length of his return is not yet known, but a setside source hints that Leyden should remain in Oakdale through the end of the year.