Emmy-nominated Jennifer Ferrin (Jennifer Munson) has finally answered that burning question. And for fans, the answer is not going to be what they had hoped to hear. The actress has decided not to renew her contract with As the World Turns.
Ferrin's uncertain status has loomed over the CBS soap for much of this year. The 25-year-old actress admits that the decision to leave was a very difficult decision to make.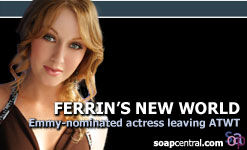 "It was a very hard decision," Ferrin stated. "The show has really become my family."
Fresh out of school, Ferrin joined the cast of As the World Turns in July 2003. The actress received two Daytime Emmy nominations during her three years with the show. In 2005, Ferrin received her first nomination with a nod for Outstanding Younger Actress. This year, Ferrin earned a nomination in the Outstanding Supporting Actress field.
Ferrin plans to remain in New York, where As the World Turns is filmed, to pursue other opportunities in film, television and theater.
Due to the front burner status of Jennifer, it is expected that the role will be recast.
Ferrin last airs on July 7.
Photo: Bleacher & Everard/PGP