In what will surely come as deeply upsetting news to soap fans, Procter & Gamble Productions and CBS have confirmed that Emmy winning actor Benjamin Hendrickson (Hal Munson) passed away suddenly over the weekend. Hendrickson was 55.
After calls from neighbors, Suffolk County (NY) police officers found Hendrickson dead in his bed on Monday. The cause of death was ruled a suicide; the actor died of a single, self-inflicted gunshot wound to the head.
A 21-year veteran of As the World Turns, Hendrickson picked up a Daytime Emmy for Outstanding Supporting Actor in 2003. In addition to his work on As the World Turns, Hendrickson also appeared on three other P&G soaps: Another World, Guiding Light and Texas. Hendrickson did not confine his remarkable talent to a single medium. In addition to his work on the show, Hendrickson appeared on Broadway in the 1984 revival of Awake and Sing, Strider and in the title role of The Elephant Man. His feature film credits include Spanking the Monkey, Regarding Henry, Consenting Adults and Manhunter. Prior to joining As The World Turns, Hendrickson appeared on Procter & Gamble Productions' Another World, Guiding Light and Texas.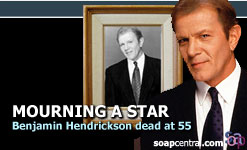 "As The World Turns, Procter & Gamble Productions and the entire daytime community have lost a dear friend and a talented actor who brought to life the character of Hal Munson," says As The World Turns Executive Producer Christopher Goutman. "Benjamin always joked that he was hired for one day, then before he knew it he'd impregnated the leading lady and had to sign a contract. He intended to stay with the show for one year. How lucky for us and the fans that we had him for 21 years. We will continue to mourn his passing."
"Everyone at CBS Daytime is devastated by the loss of our friend and colleague Benjamin Hendrickson," says Barbara Bloom, Senior Vice President, Daytime Programs, CBS. "Benjamin's 21 year portrayal of Hal Munson is testimony to a gifted actor whose talent and loyalty will always be remembered by his fans and co-workers, as well as a very appreciative network. Our thoughts and prayers are with his family, his fellow cast members, the producers and everyone at As The World Turns during this difficult time."
Hendrickson attended the Juilliard School where he was a member of the first class of the drama division and a founding member of The Acting Company, under the late John Houseman.
In 2003, Hendrickson took time off from As the World Turns during what was a very difficult time in his life. His time away allowed him to care for his ailing mother and later mourn her death. In his Emmy acceptance speech that year, Hendrickson thanked his late mother for helping him accomplish his dream of going to Juilliard.
"To my mother who scrimped and saved to send me to Julliard to study the classics... I'm sorry," Hendrickson mused of his success in soaps as he held his Emmy above his head.
Born on August 26, 1950 in Huntington, New York, Hendrickson was an avid golfer and spent much of his down time on the green with his As The World Turns co-stars. His last air date as Hal Munson will be July 12, 2006.
Hendrickson is survived by a nephew, Stephen Hendrickson, and niece, Kristen Batteria.
A show spokesperson says that there are no plans to recast Hal at this time.

RELATED STORYATWT to address the real-life death of Hendrickson.