Zach Roerig (Casey Hughes) has opted not to re-sign his contract with As the World Turns. The young star will exit the CBS soap later this year and focus his attention on projects outside of daytime television.
"I'm going to be leaving the show at the end of April," Roerig confirmed.
The future of Casey has yet to be determined. Roerig will not be part of the show's summer teen storyline, which begins an on-location shoot next month in Branson, Missouri. It appears that the actor had wanted to be part of the plot as he requested that the show extend his stay through August. The show declined the extension.
An As the World Turns spokesperson was unavailable for comment at post time.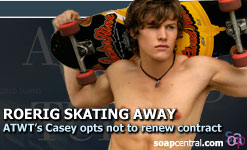 It doesn't appear that Roerig will be out of action long. The young star has been actively auditioning during the pilot season. He landed a role in the series "Split Decision" last year, but the fledgling The CW network opted not to pick up the show.
Setside sources state that Roerig has, in the past, been forced to pass on other opportunities because of his ATWT contract.
Roerig joined As the World Turns in January 2005. Due to pre-emptions, Roerig's exit was bumped back; he last airs on Wednesday, May 2nd.