Two-time Daytime Emmy winner
Martha Byrne
(
Lily Snyder
) has appeared on As the World Turns for the bulk of the last 23 years. However, the actress will be exiting the CBS soap in the weeks ahead, claiming that she was strong-armed out of the production when executives stopped negotiating hew new contract in good faith.
The news of Byrne's exit was first reported by Soap Central on February 29th. At that time, the actress initially had no comment, saying that the situation was "a private and personal matter." Byrne changed her position when the show issued a statement regarding the contract impasse that she felt did not accurately convey what had transpired between the two sides. Two weeks after the news of the stalemate was announced, Byrne broke her silence on the issue by holding an online chat on her official web site to explain the events that led up to her firing.
In its statement earlier this month, an As the World Turns spokesperson stated that the show had "made Martha an incredibly generous offer in hopes that she would remain a valuable member of the As The World Turns cast."
There was speculation that negotiations between the two sides fell apart due to salary issues, but Byrne flatly denied that money was ever a factor. As part of the show's efforts to cut its operating budget, Byrne states that she had already agreed to a substantial pay cut last year.
Online, rumors swirled that Byrne wanted the show to get her blessing before developing stories involving Lily. The actress shrugs off the rumors as nothing more than fiction.
"I did not want storyline approval -- no one gets that," Byrne explained.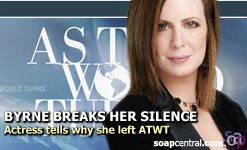 What was the breaking point for Byrne was the show's unwillingness to guarantee the number of episodes she would appear in each week. Byrne bristled at the idea of not knowing how often she would be working.
"I made a request to work at least the same number of shows that I was in last year and was told 'No.'" Byrne stated. "That day is when the recast call went out."
With neither Byrne nor show execs seemingly willing to budge from their positions, the show sent out a casting call to managers and talent agents seeking actresses to audition for the role of Lily. No explanation was given for the decision, though a show source said that the network needed to have plans in place in the event that Byrne did walk.
"I think [the show] expected Martha to return to the bargaining table once the [casting] notice went out," the source told Soap Central. "I don't think they counted on it pushing her further away."
For her part, Byrne declined to go into detail, noting only that "after the call went out things went from bad to worse."
Byrne taped her final As the World Turns scenes on March 14th. In those scenes, Lily will get into a limousine and head off on a trip. When she returns to Oakdale at a later date, a to-be-named new actress will appear in the role. It is believed that Lily will have a less prominent presence on the show once the role is recast.
Byrne has not ruled out a return to As the World Turns. For now, she is happy to be at home with her family, and is content to plan vacations, record new songs, explore new career options, and get more involved with charitable work. Fans are already flooding Procter & Gamble Productions with cards and letters expressing their support for Byrne and their disappointment that the show would let the actress leave.
During the online chat, Byrne answered chatter lwsfan's expression of love from "everyone at Soap Central" with an appreciative shoutout of her own: "I've had a lot of great support from soapcentral. THANK YOU! [..] This has been a difficult few weeks. I am so thankful for all of fans and they have all shown such an enormous amount of support."
A final airdate for Byrne has not been released, but her exit is slated to air sometime in late April.