The casting cuts continue at As the World Turns. Dylan Bruce (Chris Hughes) is the latest star to be demoted. The actor, who joined the show in October 2007, has been dropped to recurring status. The de-casting decision comes as either a surprise or an expected eventuality, depending upon how you look at the situation.
For one reason or another, the role of Chris Hughes has been one of the most problematic roles for As the World Turns'. Since 1990, eight different actors have held down the part. Christian Siefert has the distinction of lasting the longest in the role, appearing from 1992 through 1998. Ironically, some of the best-known Chrises have been performers that have appeared on-screen for the shortest period of time. In 1999, As the World Turns scored what was seen as a huge casting coup when it landed former All My Children breakout star Ben Jorgensen. The writers struggled to come up with meaningful story for Chris, and Jorgensen left the show only a few months after his debut. A similar fate befell Bailey Chase who, while popular with fans, saw his on-screen time dry up near the end of his two-year run with the show in 2005. Chase remarked that "professional desires" and lack of story led him to decide to leave the CBS soap.
This time around, however, Chris hasn't been without story, which has led to some viewers questioning the decision to write off Bruce.
"I'm shocked that with recent plot developments his character's role would be downsized," Soap Central's As the World Turns Two Scoops columnist Jennifer Biller comments. "Last week, he had quite a heroic arc, by saving Ali from psycho Rick and creating an antidote for [Rick's] toxin. It seemed they were pointing him toward a love triangle with Aaron and Ali. Plus, he has deep-rooted history with a number of other characters on the show."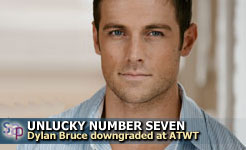 Bruce is the latest contract player to be shown the door. Last month, Jon Prescott (Mike Kasnoff) announced on his official web site that he'd been handed his walking papers. In the days prior to Prescott's announcement, the Internet was abuzz with the news that one of the show's contract players had been sent packing. This time around, there was no whispering about Bruce's dismissal.
With Bruce no longer on contract with As the World Turns, the actor is free to pursue other opportunities. There is always the possibility that ATWT could call Bruce to put in an appearance, but the actor is under no obligation to agree to any future appearances.
A final airdate for Bruce was not made available.