Soap opera veteran Jon Lindstrom is returning to daytime television for the first time in over five years. The General Hospital alum, however, will not be returning to his old stomping grounds in Port Charles. Lindstrom has been hired to play an oft-recast role on CBS's As the World Turns.
Lindstrom is best known to daytime viewers for his role as Kevin Collins on both General Hospital and its spinoff, Port Charles. His combined run as Kevin on the two soaps lasted ten years. He also appeared as Ryan Chamberlain on General Hospital for a three-year period in the early 1990s. Prior to his lengthy run on ABC, Lindstrom appeared as Mark McCormick on NBC's Santa Barbara from 1985 to 1986.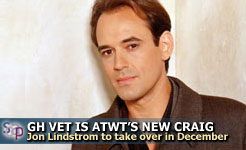 Lindstrom becomes the fourth actor to play the part of Craig, a role originated by Scott Bryce in January 1982. Bryce returned to the show in April 2007 to much fanfare, but the actor's dismissal a year later was shrouded in controversy.
Actors Hunt Block and Jeffrey Meek also held down the role. Block was twice nominated for a Daytime Emmy during his five-year run on the show.
TVGuide reports that Block was contacted about returning to As the World Turns, but that his salary demands were too high.
When last spotted in February 2008, Craig was boarding a plane destined for the Cayman Islands.
Lindstrom makes his As the World Turns debut on December 3.