Cady McClain (Rosanna Cabot) is returning to As the World Turns. The actress has confirmed that she will report back to work in the upcoming weeks. It's been just a little more than a year since the actress last appeared in Oakdale.
"I am thrilled to announce that I have been asked to re-join the cast of As the World Turns as Rosanna Cabot!" McClain revealed in a posting on her personal web site. "I start shooting in two weeks!"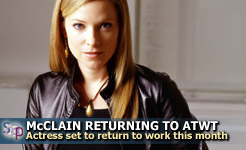 The news is sure to take the wind out of the sails of All My Children fans, many of whom believed that recent hints of "major casting news" by the ABC soap meant that Dixie Martin was headed back to Pine Valley. McClain briefly reprised her Emmy-winning All My Children role in 2008.
What's ahead for Rosanna is still a bit of a mystery. The character was been in a coma since McClain exited the show in January 2008. When she awakens this time, McClain hints that her alter ego may have undergone some significant changes.
"She is going to have gone through a transformation," McClain tells Soap Opera Digest. "It's timely and relevant and I'm very excited about that."
Since her most recent break from daytime, McClain's name was bandied about as a possible recast for Guiding Light's Harley Cooper. While the reports floated around for several weeks, McClain brushed off the talk as "rumors."
McClain is scheduled to air just in time for the May Sweeps period. Her first airdate is tentatively scheduled for May 20.