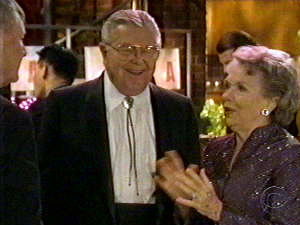 Deepest condolences go out to As the World Turns star Helen Wagner (Nancy Hughes). Wagner's husband, Broadway producer Robert Allen Willey, passed away last week. Wagner and Willey married in 1954.
In 2002, Willey guest-starred as Andrew Emerson in an episode of As the World Turns.
Robert Allen Willey, 88, a 37-year resident of Mount Kisco, New York died on May 12, 2009 at his home. Mr. Willey was born on July 3, 1920 in Pasadena, California, the son of William S. and Minna E. Willey. He was a graduate of Pasadena High School, and attended U.S.C. for three years. Robert served in the U.S. Army Air Force during World War II. He was a Director, Producer and Actor in both Movies and Theatre. Robert was a member of the American Federation of Radio and Television Artists and the Screen Actors Guild. He is survived by his beloved wife Helen (Wagner) Willey and his sister, Mona Elmore of Honolulu, Hawaii. A Memorial Service will be held at a later date.