The casting coups at As the World Turns are coming just about as fast as the show's storyline resolutions. The long-running CBS soap has apparently landed yet another former General Hospital star.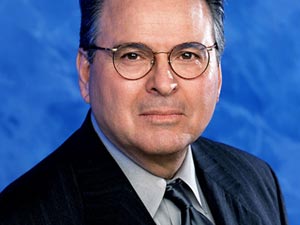 Soap Opera Digest is reporting that Stuart Damon (ex-Alan Quartermaine, GH) will join the action in Oakdale by the end of the summer. Damon will be reunited with a pair of his former GH cast members, Jon Lindstrom (Craig Montgomery; ex-Kevin Collins, GH) and and Lynn Herring (Audrey; ex-Lucy Coe, GH), as well as former Port Charles stars Marie Wilson (Meg Snyder; ex-Karen Wexler, PC) and Julie Pinson (Janet Ciccone; Eve Lambert, PC).
The Emmy-winning Damon was a member of the General Hospital cast from 1977 through 2007, when his character was killed off. Alan's death outraged fans, and the show quickly drafted a storyline that had Stuart return as Alan's "ghost." In actuality, Alan wasn't a ghost but rather a visual manifestation of Tracy Quartermaine's conscience.
There's no word on who Damon will be playing on As the World Turns -- or how long he'll be sticking around. Judging by As the World Turns' taping schedule -- they're about two months ahead -- Stuart should debut sometime in late-August or early-September.
An As the World Turns spokesperson did not immediately return requests for a statement.