Two-time Emmy winner Tom Pelphrey (Jonathan Randall, Guiding Light) will be joining the cast of As the World Turns this fall in a newly created role. The signing will keep the much-sought-after actor in the CBS stable and, more notably, on a Procter & Gamble-produced soap. Both As the World Turns and Guiding Light are produced by TeleNext Media, Inc., the production arm of the Procter & Gamble company.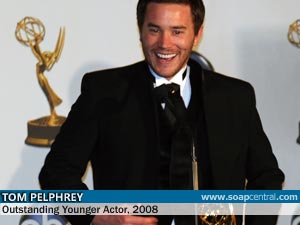 Last year, Pelphrey was reportedly being considered for the role of Dante on ABC's General Hospital. News that the actor was considering a relocation to the West Coast bolstered claims that he'd be taking on the role. In a seemingly about-face move, Pelphrey subsequently revealed that joining General Hospital wasn't in the cards for him.
An As the World Turns spokesperson has confirmed that Pelphrey is joining the show in the role of "Mick." No further information was made available on the new character.
Pelphrey is a two-time Daytime Emmy winner, winning Outstanding Younger Actor honors in 2006 and 2008.
Pelphrey made his daytime debut as Guiding Light's Jonathan in September 2004. He remained with the show on a full-time basis through August 2007. Since that time, Pelphrey has returned for several guest appearances. Pelphrey's most recent return began in August as part of the show's farewell.
Pelphrey's first airdate will be on November 10.
Photo: Dan J Kroll/Soap Central