Two-time Emmy winner Cady McClain (Rosanna Cabot) has confirmed that her time in Oakdale will soon come to a close. The actress, whose most recent return to As the World Turns began in May, will tape her final scenes in the next few weeks. As previously reported, McClain's most recent contract with As the World Turns was designed only as a short-term stay. McClain tells fans that there is still a possibility that they'll see more of her as Rosanna.
"My agreement for ATWT was only for six months and I am afraid that time is almost up," McClain posted on her official web site. "There is a chance I will be asked back next year, which would be nice, but for right now, I will air until Christmas or so."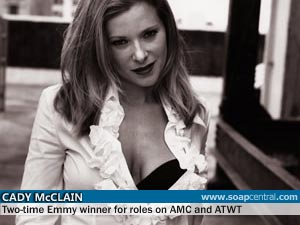 Of course McClain's impending exit from As the World Turns has fans of another soap chomping at the bit. Could McClain be headed back to ABC's All My Children if the show is somehow able to find a way to raise Dixie Martin from the dead?
"I know there have been rumors out there that I am returning to AMC, and all I can tell you is I haven't heard from them, so at this point there is nothing to tell," McClain explained.
Meanwhile, in a recent interview, McClain expressed her desire to return to the role she took on more than 20 years ago.
"Whether or not I go back to All My Children has to do with ABC and what they want to do," McClain told Damon Jacobs of We Love Soaps. "I'd be happy to come back, even for a guest appearance to help JR, or fix his car, or whatever. It's a fun group and I love what they're doing on the show. I love the look of the show."
McClain made her soap opera debut in October 1988 on All My Children. In April 2002, the actress stunned soap fans by jumping ship to As the World Turns.