Still incensed by CBS's decision to cancel As the World Turns, fans have taken to some extreme measures to help find a new home for the long-running soap. Now, the FBI is on the case. Not to help save the show, but to keep an eye on fans who want to save the show.
Confused? In what sounds like a plot from a daytime drama series, the FBI was called in to investigate a campaign that fans devised to help pressure CBS into reconsidering its decision to axe As the World Turns and Guiding Light. Fans of the Facebook group "S.O.S.: Save Our Soaps" had been sending bars of soap to CBS to show their support for the canceled soaps. Someone at CBS had gotten worked into a lather over the campaign, and apparently believed that the soap might be laced with anthrax.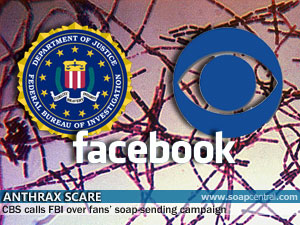 The group's founder told followers that, on January 5, she received a visit from Pennsylvania State Police and FBI agents asking why she and others were sending bars of soap to CBS. When the nature of the campaign was explained, it was apparently deemed harmless, though the group was asked to put an end to the soap-sending. It's unclear exactly how many of bars of soap were sent to CBS.
In a statement from Procter & Gamble's MediaNext, the production company of As the World Turns, spokesperson Jeannie Tharrington thanked fans for their support and explained why CBS had been alarmed by the influx of suds.
"I wanted to let you know that we very much appreciate the outpouring of support from ATWT fans like you," Tharrington wrote. "We certainly encourage you guys to send in letters, postcards, etc., voicing your continued support of the show and of TeleNext Media as we look for another outlet to pick it up. I would, however, like to discourage the sending of soap in any capacity. In this day and age, anything that looks like a suspicious package can cause many levels of alarm for an organization, and we'd like to keep such situations at bay. So, please, feel free to encourage the sending of letters and postcards, but I'd appreciate it if you all would hang onto the soap. Thanks again for your unwavering commitment to the show. We truly appreciate it!"
As the World Turns is slated to air its final episode on CBS in September. There's been no word on whether or not any other outlets have expressed an interest in picking up the show.