The world of daytime has lost another of its legendary stars. Helen Wagner (Nancy Hughes), the woman who spoke the first words on As the World Turns when it premiered more than five decades ago, has died. The actress passed away on Saturday, May 1 at her home in Mount Kisco, New York from cancer. She was 91.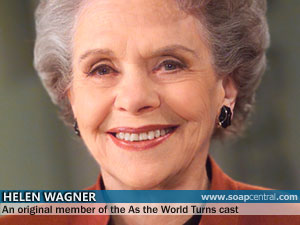 "All of us at As The World Turns are deeply saddened by Helen's passing," Christopher Goutman, executive producer of As the World Turns, said in a statement. "She is loved by generations of fans and while we will miss her greatly, Helen will always remain the heart and soul of As The World Turns."
Wagner truly was adored by generations of soap fans. Born on September 3, 1918 in Lubbock, Texas, Wagner studied at Monmouth College in Illinois, earning degrees in dramatics and music. While working with the St. Louis Municipal Opera, her first professional stage job, she caught the eye of Oscar Hammerstein. Hammerstein then cast Wagner in the Broadway production of Sunny River.
Wagner made her television debut in a fairytale produced by General Electric at its experimental television station in Schenectady, New York. Wagner got her start in daytime on another long-running program: Guiding Light, where she appeared briefly in 1952 as Trudy Bauer. In 1956, Wagner joined the cast of a newly created Procter & Gamble-produced soap opera, As the World Turns. When As the World Turns premiered, it was Wagner's voice, saying "Good morning, dear," that fans first heard.
On November 22, 1963, real-life drama intruded on the show when As the World Turns was still being broadcast live. Wagner's character was talking about upcoming Thanksgiving plans, saying, "I've thought about it, and I gave it a great deal of thought..." She was interrupted mid-sentence with a "CBS News Bulletin" sign. Viewers then heard legendary newsman Walter Cronkite announcing that President John F. Kennedy had been shot in Dallas. The actors themselves weren't told at the time.
The Guinness Book of World Records lists Nancy Hughes as the longest-running character played by one actor in television history.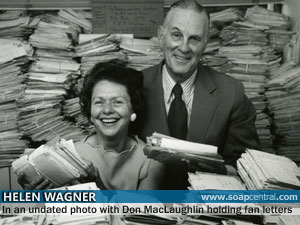 Though Wagner is known immediately to fans as Nancy Hughes, the actress almost didn't make it to iconic status. Wagner was reportedly fired by the late Irna Phillips, creator of As the World Turns, because she had been unhappy with Helen's portrayal of Nancy. The show was unable to find a suitable replacement, and Wagner was rehired some 13 weeks later.
In 1988, Monmouth College awarded Wagner with an honorary degree of "Doctor of Humane Letters." Wagner received a plaque on the Buddy Holly Walk of Fame in her hometown in 2002. In May 2004, Wagner received a Lifetime Achievement Award at the Daytime Emmys.
Wagner married Broadway producer Robert Willey in 1954. Willey passed away in May 2009. The couple had no children.
Wagner's final appearance on As the World Turns aired April 5.
All My Children star James Mitchell dead at 89.