Daytime Emmy winner Julie Pinson (Janet Ciccone) has signed on to appear in the upcoming online drama series, River Ridge. Pinson will conclude her two-year run on As the World Turns when the series concludes its run on September 17.
In addition to her work on As the World Turns, Pinson has appeared on three other daytime drama series: Days of our Lives, Port Charles, and The Young and the Restless.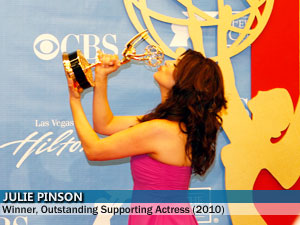 In joining River Ridge, Pinson will appear on-screen with fellow soap stars Signy Coleman (Hope Wilson, The Young and the Restless), Beth Ehlers (ex-Taylor Thompson, All My Children; ex-Harley Cooper, Guiding Light), and Frank DiCopoulos (ex-Frank Cooper, Guiding Light). Also slated to appear are Barbara Alyn Woods (Deb Scott, One Tree Hill), Hudson Leick (Callisto, Xena: Warrior Princess), and newcomers Seth Ford and Matt McAbee.
In an interview on Soap Central Live, Coleman expressed her excitement over the new project.
"I think people are going to be blown away by this series," Coleman gushed. "I'm so excited that I can't tell you. I really am. [W]e really, really want to do something different. As I said, I don't know, I'm just at a point in my life where it's just so important to reach out and touch people, and to try and make a difference and educate people and help people. This is really a big part of my calling at this point in my life. I've lived such a beautiful, amazing, incredible life."
Principal photography for River Ridge is expected to begin in October, with a series premiere in early 2011.