Soap Central has confirmed that Tom Eplin (Jake McKinnon) will exit As The World Turns this spring.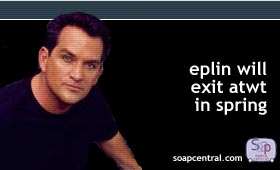 Eplin, joined the cast of As The World Turns in July 1999, but this was not his first foray into daytime television - or the role of Jake McKinnon. Eplin had previously played Jake on NBC's Another World from 1985 through the show's cancellation in 1999. Eplin earned his very first Daytime Emmy nomination last year in the Outstanding Lead Actor category.
According to an ATWT spokesperson, Eplin's exit is "storyline dictated."
There has been speculation by Internet message board posters that Eplin would exit along with his on-screen wife Lesli Kay (Molly Conlan). Kay, a Daytime Emmy winner last year in the Outstanding Supporting Actress category, is rumored to be mulling a departure this spring when her contract expires. Kay recently signed a contract extension, the terms of which were not released. The show spokesperson, however, disputes the claims that Kay's exit is imminent.
Eplin's exit, which an ATWT insider says will be "shocking," is scheduled for May.