It's a case of out of sight, but not out of mind for As the World Turns' Mary Beth Evans (Sierra Esteban Montgomery). The actress, who hasn't had any on-air time since January 2003, will reprise the role of Sierra several times in the next few months.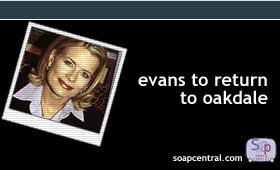 Evans is on recurring status with As the World Turns - even though she hasn't been see on-screen in over a year. While contract players are usually guaranteed to appear in a certain number of episodes each week, recurring players appear only when required by scripts. Some recurring players, like Evans, appear sporadically. Others, like Cady McClain (Rosanna Cabot) appear more frequently than some contract players. Under the terms of most contracts, performers are limited in the scope of their outside projects. Recurring players have no obligations to their respective soaps and can take on other projects usually without approval.
A message on Evans' official web site says that the actress has two upcoming engagements on As the World Turns. She will resume taping this month and appear on-screen beginning May 27.