As the World executives have announced that a former Sunset Beach actress will assume the role of Molly McKinnon this summer.

As previously announced by Soap Central, Emmy winning actress Lesli Kay (Molly McKinnon, As the World Turns) will soon be exiting CBS's As the World Turns and heading west to play General Hospital's Lois Cerullo.
"In consideration of the needs of her family, Lesli Kay expressed the desire to relocate to Los Angeles," As the World Turns executive producer Chris Goutman said in a statement. "When the opportunity at General Hospital arose, we chose not to stand in the way. Lesli Kay has served As the World Turns with the utmost professionalism and enthusiasm for the past seven years. We wish her and her family nothing but the best."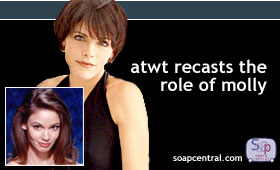 A final airdate for Kay on As the World Turns is July 2, while Kay made her General Hospital debut on June 10.
Meanwhile, Christina Chambers (ex-Maria, Sunset Beach) takes over the role of Molly for a limited run beginning July 8th. According to a show insider, Chambers will remain with As the World Turns for no more than an eight-week run, allowing the show to find a permanent replacement for Kay.

RELATED STORYATWT's Lesli Kay to join General Hospital cast.