His addition to cast was part of what many media outlets called a "raiding" of former ABC talent by CBS execs, but without much story for his character, General Hospital's Réal Andrews (Walker Daniels) has been let go from As the World Turns.
Andrews joined As the World Turns in June 2003, but in most of his time in Oakdale he has seen little in the way of storyline. Prior to joining the cast of As the World Turns, Andrews enjoyed a nearly seven-year run as Marcus Taggert on ABC's General Hospital.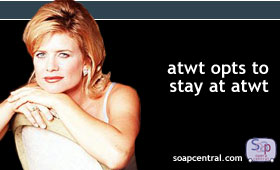 In the weeks leading up to Andews' addition to As the World Turns, several other high-profile former ABC soap stars were added to the show's canvas. Two of those stars - Cady McClain (Rosanna Cabot) and Roger Howarth (Paul Ryan) - remain with the show. Though it was firmly denied by network execs, some soap publications claimed that CBS was intentionally seeking out former ABC stars in the hopes of boosting ratings.
According to a show spokesperson, Andrews' exit is "storyline-dictated." The role will not be recast.
Andrews last airs on September 29.