How do you feel about ATWT's decision to oust Lamas as Rafael?

Honestly, I would rather they write out Rafael all together.
48%
I'm very upset. I really liked seeing Lamas as Rafael.
28%
It's a smart move. I don't think Rafi was really clicking.
14%
I don't have an opinion about the decision to recast.
5%
I think it's too soon to offer an opinion on the recast.
4%
Other
1%
Poll Posted: January 13, 2005
After less than three months as a member of the As the World Turns cast, Soap Central has learned that newcomer
AJ Lamas
(
Rafael Ortega
) has been let go. The role will be recast.
Lamas, son of
Lorenzo Lamas
(
Hector Ramirez
,
The Bold and the Beautiful
) joined the show on October 18, 2004. According to a show spokesperson, the decision to recast the role was story-dictated and is not meant to be seen as a reflection of Lamas' work.
"The role of Rafael is being taken in a different direction," an As the World Turns spokesperson told SoapCentral.com.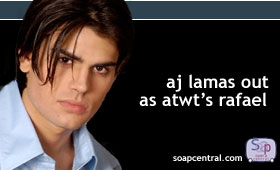 Fan reaction to the on-screen relationship between Lucy and Rafi has been mixed. With
the announcement in November
that actress
Peyton List
(
Lucy Montgomery
) would be exiting the show, an insider tells Soap Central that show execs may have felt that an opportunity was present to shake up the existing storyline.
The show originally had plans to introduce some of Rafael's family members later this year. Actress Alyssa Diaz is scheduled to make her first appearance as Celia, Rafael's younger sister, on February 9th. And as for any additional plans the show might have to add to Rafael's family, no one at the show is saying anything at this time.
Newcomer Michael Cardelle will assume the role of Rafael beginning February 25th. Lamas makes his final airdate on February 24th.