McClain's ATWT status sparks AMC return rumors
by
Dan J Kroll

Posted Thursday, April 21, 2005 1:30:26 PM

Get ready for the latest rumor about Cady McClain's (Rosanna Cabot) future with As the World Turns. It seems that every few months or so, rumors begin circulating about whether or not the actress will be exiting the show she's called home since 2002.

The latest rumor has been brought on by the announcement that, while McClain will continue appearing in her Emmy-winning role, she will not be signing a new contract with the show. But not having a binding contract with As the World Turns is nothing new for McClain.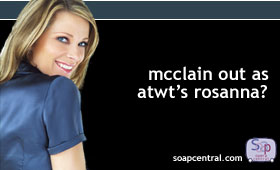 For most of her tenure with As the World Turns -- and seemingly contrary to the frequency with which she was seen on-screen -- McClain has not been a contract player. In fact, the actress has been on recurring status for two of her three years with the CBS soap. Essentially, a contract binds a performer to a particular program. The contract may or may not guarantee the number of episodes that a performer will appear in during a given week or limit them from appearing in other acting projects.

It didn't take long for the news of McClain's new status with As the World Turns to fuel rumors that McClain might be returning to her former job at All My Children. From 1988 to 2002 (minus a two-year break from 1996 to 1998), McClain appeared as Dixie Cooney Martin on the ABC soap. McClain earned a Daytime Emmy for her work in 1990 as well as an additional Emmy nomination in 2000.

McClain has confirmed that executives from All My Children have approached her about a possible return, but the actress has indicated that she is not interested in returning at this time.

McClain last airs on July 29th.