As previously reported by Soap Central, Jessica Dunphy (Alison Stewart) will exit As the World Turns when her contract expires. The decision to leave was strictly that of the actress, but the show has written storyline that will provide the actress and her character a way off the canvas. Her exit comes later this month.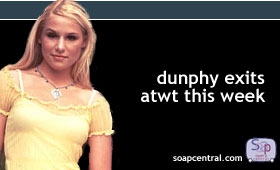 Dunphy joined the cast of As the World Turns in April 2002. Speculation of her exit has been mounting for several months. Earlier this year, the show lost much of its "younger" talent - Peyton List (Lucy Montgomery) exited in January, AJ Lamas (Rafael Ortega) was let go in February and Agim Kaba (Aaron Snyder) opted to leave the show in April.
Dunphy last airs on July 20th. The role will not be recast.