On August 26, while attending a fan club luncheon, The Bold and the Beautiful's Adrienne Frantz (Amber Moore) was attacked by an onlooker.
According to eyewitnesses, Frantz and other show celebs mingled with a crowd of fans before a scheduled pressroom photo session. The atmosphere was festive and nothing appeared to be amiss.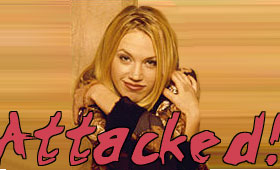 "All of a sudden, Adrienne is screaming for security", recalls a witness. "This woman had a hold on Adrienne and was shaking her."
Reports from the scene say that the unidentified woman yelled, "Stay away from Johnny!" It's been widely assumed that the remark was a reference to John Rzeznik, the lead singer of rock band The Goo Goo Dolls and Frantz's beau.
Understandably, Frantz was shaken by the incident and was unable to continue with her plans for the fan club event. The alleged attacker involved in the incident was escorted by security to a separate room. She was detained, questioned, and reportedly admitted to a nearby hospital for a 72-hour psychiatric observation.