Emmy award winning actress Jennifer Finnigan (Bridget Forrester) has publicly announced her intentions to leave The Bold and the Beautiful when her contract expires.
During a recent taping of SoapTalk, an Emmy-nominated talk show featured on the SOAPnet cable television channel, Finnigan explained that she would not renew her contract. Instead, Finnigan has expressed an interest in pursuing other projects. Those plans have not been explicitly discussed, and it is unclear if Finnigan would tackle another role on daytime television.
Finnigan, a Montreal native, joined the cast of The Bold and the Beautiful in July 2000. Though playing B&B's Bridget was her first "big break" in the industry, Finnigan's work quickly helped her character involve into a foreground player. The actress' peers also took note of her performance. In 2002 and again in 2003, Finnigan was named Outstanding Younger Actress at the Daytime Emmys.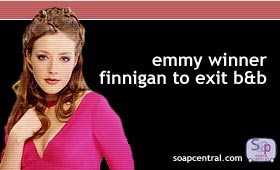 "Jen is a really good actress," praised Finnigan's co-star fellow Emmy winner and B&B director Susan Flannery (Stephanie Forrester) backstage at this year's Emmys. "She's very intelligent, very well thought out and has a real command of emotion."
Bradley Bell, the head writer and executive producer of The Bold and the Beautiful agrees with Flannery. "We've been enchanted with Jennifer Finnigan since the day she got off the plane from Canada. Watching her incredible talent blossom over the past three years has been a true delight," said Bradley Bell, B&B's Executive Producer and Head Writer. "We are rooting for her success, but will miss her a great deal. She has all the makings to become a major star."
"When I first arrived on the show, she was a very young character," explains Jennifer. "Because of the way I wanted to play her, as an intelligent and very mature for her age girl, the writers accommodated me with that and within a year she had aged from 16 to 18 and was getting married. She has matured, become stronger and more assertive."
Finnigan is now in discussions with various networks and studios to discuss future projects. "I'm a little apprehensive about taking this big step, but have received so much encouragement from everyone, that I'm confident that this is the right time to continue my professional journey into other areas of acting," said Finnigan.
A final airdate has not yet been determined. However, Finnigan is expected to remain on-screen until January 2004, when her current contract expires. The role od Bridget will be recast.