The Bold and the Beautiful has lost another of its core characters. Just a matter of weeks after the decision by show executives to demote Bobbie Eakes (Macy Alexander) to recurring status and the announcement by Emmy winner Jennifer Finnigan (Bridget Forrester) that she will leave the show comes word that Justin Torkildsen (Rick Forrester) has been taken off contract.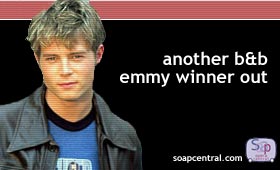 Torkildsen, a Daytime Emmy winner himself, joined the cast of The Bold and the Beautiful in October 1999. He was cast a replacement for Jacob Young, who had played Rick Forrester for the previous two years. Torkildsen, who shared an unmistakable resemblance to Young, quickly won over fans and made the role his own. In 2001, Torkildsen earned his first Daytime Emmy in the Outstanding Younger Actor category. He has also earned two additional nominations in 2000 and 2002.
According to setside sources, Torkildsen approached show executives to ask that he be taken off contract in order to pursue other ventures. Torkildsen is said to have had to pass on a role in the FOX primetime series "Skin" because of contractual obligations to CBS.
Torkildsen will remain with The Bold and the Beautiful in a recurring capacity and will continue to make occasional appearances. A network spokesperson states that the role of Rick Forrester will not be recast, but declined to speculate on how the character would figure into future storylines.