The search for The Bold and the Beautiful's new Bridget Forrester has ended. The CBS soap has tapped a newcomer to daytime television to assume the role that will be vacated by Emmy winning actress Jennifer Finnigan early next year.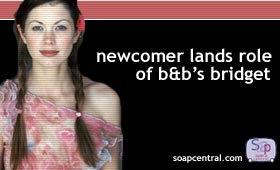 Finnigan announced in October that she would leave The Bold and the Beautiful, ending a three-and-a-half-year run with the show. The actress was awarded consecutive Daytime Emmys in the Outstanding Younger Actress category in 2002 and 2003. The announcement didn't surprise many at the network. Finnigan's co-star, Susan Flannery (Stephanie Forrester), who also serves as a director for The Bold and the Beautiful, has repeatedly praised Finnigan's work and stated that the actress would definitely go on to successes outside of daytime television.
Newcomer Emily Harrison will take over for Finnigan in late January. Harrison has recently appeared on the NBC drama American Dreams and the WB series 7th Heaven, but this will mark her first foray into daytime television.
Finnigan taped her final B&B episode on December 15 and Harrison will tape her first scenes just two day later. Look for Finnigan to last air on January 22, while Harrison makes her first on-air appearance on January 26.